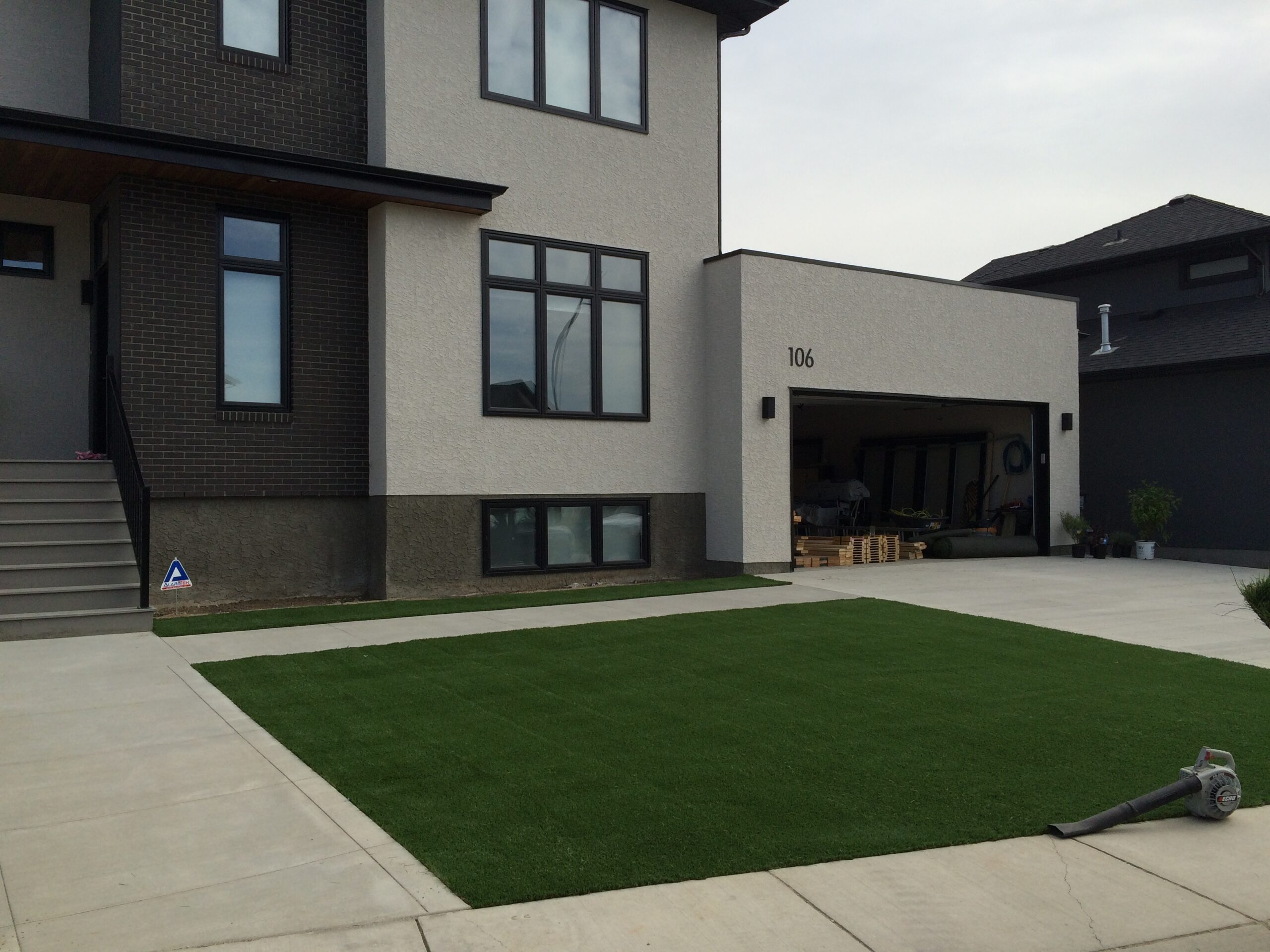 Artificial turf will help take some of the stress out of your life! We install only high-quality products that will last and take the maintenance out of your yard. With several options to choose from, we have something that will match your home, budget and lifestyle needs. Pets love our turf as well! Your pet is part of your family which is why all of our turf is pet friendly. It also makes cleanup a breeze!!
Why Consider Artificial Turf from Turf Doctor?
Imagine never having to mow, fertilize, or water your lawn again. Synthetic Turf provides the opportunity to be environmentally friendly and the envy of your neighbourhood at the same time. Simply put, a synthetic grass lawn is cleaner, greener, and easier than real grass.
Save Money
Synthetic grass is an excellent choice for commercial applications as well! Whether you pay your employees or hire landscape contractors to maintain your current lawn, it does not take long for your bills to add up. These bills coupled with all the wasted water from poorly placed, aligned, timed, or broken sprinkler systems, your synthetic lawn will pay for itself in no time.
Save Time
Not only does an artificial lawn make sense ecologically, but it helps save you money as well! Most homeowners who install an artificial lawn end up saving money between 3 and 5 years compared to well-maintained natural grass; and that is without factoring in the value of your time. Just think of never having to lug out that heavy lawnmower again and instead, spending that precious time with family and friends.
Key Benefits of Synthetic Turf
No Mowing
The Canadian Mortgage and Housing Corporation estimates that a typical gas-powered lawnmower emits as much air pollution annually as a car driven halfway across the country.
No Watering
Environment Canada estimates that the average homeowner consumes 14,000 litres of water annually to care for their lawn. With the price of water increasing, this could mean even more future savings.
No Fertilizing
Environment Canada estimates that the average residential homeowner uses 46 pounds of pesticides in the form of fertilizers and weed control annually.
No Dull Brown Grass
Our lawns here in Saskatoon are completely snow-covered for 2 months of the year, leaving a minimum of 7 months we are forced to look at a dull, dirty brown yard. With synthetic grass, you will have a perfect lawn 12 months of the year.
No Dog Damage
All dog owners know how hard, if not impossible, it is to maintain a nice yard. With synthetic grass, pet waste will not discolour or kill the grass, so your yard always looks perfect.